Coat of arms of the kin Riedl from Šumvald
Until the 13th century settlement of North Moravia reached to the mountains in north which extended in horseshoe shape from Olomouc through Štenberg past Uničov and past today s Usov to the river Morava.Everything else were coverd by widespeards forests where people were still permanently living.To the movement of bordes happend in 13th and 14th century,when czech element expanded form plane to foothills.There was not enough inhatitants for quicker usage of unsettled areas and natural assets.Plus that local people did know breaking of ore.That is why in the start of 13th century and in 14th cenrury there is foreign colonization-german settlers are comming.
From the german territory are comming german ancestors who probably colonized foothills of Jeseniky in the 13th and 14th century.They were working as compilers of metals and they domesticated in the atera of Oskava and Šumvald.One of them was zthe kin of riedl.Children of Riedl Wavra(* around 1625 in Hradec) settled down 21st September 1681 in Šumvald.Their farm land was a property n.40where kin of Riedl had been living for 206 years,until 31st July 1893 when it was sold for 13 150 gold.
In Šumvald was also born my great-grandfather Franz Xaver Riedl (*28.11.1846, my other ancestors were born out of Šumvald. Eduard Josef Riedl (*18.3.1879 Kroměříž) his son Eduard Riedl (*6.11.1911) in Ostrava, where I was born-Eduard Dušan Riedl and my sons Michal a Ondřej.So in total,we are originally from Šumvald,actully from its near surroundings and to our symbol is a lion from stamp of Lord Oneš and german female eagel.All our ancestors were farmers so in our symbol cannot miss spade and wheat spike.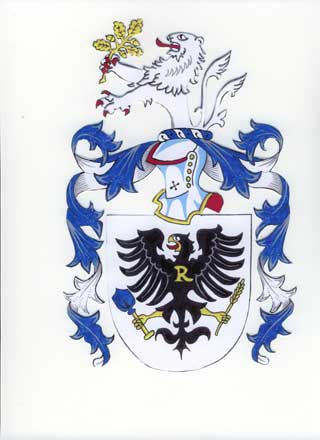 Description of our coat of arms (Blason)
In the silver buckler there is a black eagle with golden armour and a golden letter R on its chest.Eagle holds in the right claw blue spade with golden bucket-arm and in the left claw it holds gold spikelet. On the buckler there it is a burgonet with blue and silver wreath on its top. A jewel there is a growing two-tailde lion with red armour which is holding gold oak tree branch in its paw.
Registration of coat of arms
The coat of arms is registrated with the serial number 15. It has been registrated by Czech genealogica and heraldic company in Prague on 23rd of Octobre 2006.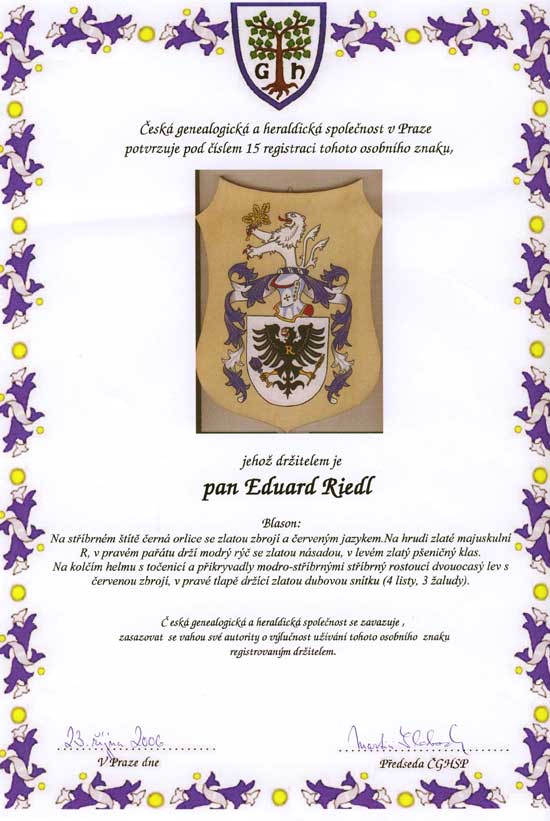 information on activities Czech genealogica and heraldic company in Prague find www.genealogie.cz